Power Electronics, Power Supplies, Power Supplies, DC-DC Converters, DC UPS, EMC Filters, Couplers, Redundancy Modules & Transformers
We offer power electronics from FEAS GmbH.
In addition to power supplies, DC-DC converters, DC-UPS & buffer modules, EMC filters - radio interference suppression filters, redundancy modules, transformers & function modules, couplers, battery packs and various function modules, our range includes other state-of-the-art power electronics - Made in Germany. Developed and manufactured at Feas GmbH in the northern German company headquarters in Ahrensburg near Hamburg. Feas products meet the highest quality requirements and the latest safety standards.
We offer a wide range of power supplies with the following key figures:


Output voltage: 5Vdc - 220Vdc
Input voltage: 12Vac - 480Vac
Phases: 1-phase or 3-phase
Technology: screen-smoothed, linear regulated or switch-mode power supply
Protection class: IP65, IP68
Installation type: wall mounting, top-hat rail or partly 19" plug-in frame
Robust DC-DC converters supply your sensitive loads with the desired DC voltage:

Output voltage: 12Vdc, 24Vdc & 48Vdc (exact voltage adjustable).
Input voltage: 18Vdc - 40Vdc, 30Vdc - 80Vdc or 70Vdc - 155Vdc
Technology: Overload- and no-load-proof, short-circuit-proof
Protection class: Tropicalised due to full cast resin encapsulation
Type of installation: wall mounting or top-hat rail
DC UPS - for a wide range of applications
Choose a DC UPS to suit your application:

Output voltage: 12VDC or 24 VDC or a unit with both options
AC or DC input / with or without integrated power supply unit
Optionally also with 3-phase input or as low voltage version (LV)
Buffer times from 30min - 270min
Optionally with high-temperature batteries up to 70°C
Optionally with RS-232 / RS-485 interface
NiMH or lead-gel batteries
Terminal version or cable version
Mounting on top-hat rail or wall mounting
Buffer modules - for a wide range of applications
Choose a buffer module that suits your application:
Output voltage: 12VDC, 24VDC or 48VDC
AC or DC input / with or without integrated power supply unit
Adjustable buffer voltage
Boost function up to 200
Buffer times between 30s and 110s
Remote monitoring (mains failure, state of charge, temperature, overload)
Mounting on top-hat rail or wall mounting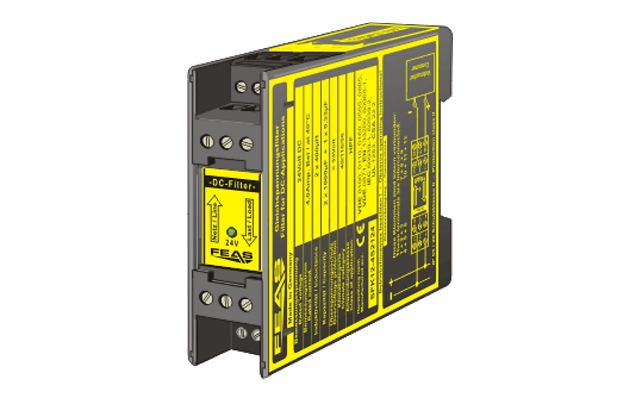 Choose an EMC filter for your:
Supply with DC voltage or AC voltage (1-phase, 3-phase, 3-phase+neutral)
1-stage or 2-stage interference suppression
Optimised against symmetrical or asymmetrical interference or interference in the lower frequency range
With different enclosure types (fully encapsulated aluminium enclosure or self-extinguishing polycarbonate enclosure, optimised for sub-distribution boards, ...).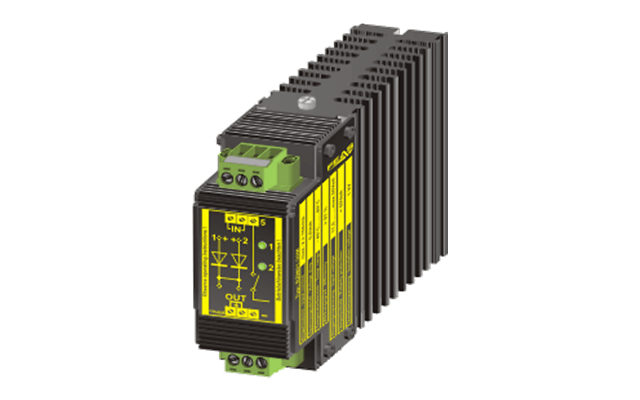 Redundancy modules for the following voltage ranges:

5,0 VDC - 50 VDC
11,5 VDC - 50 VDC
40,0 VDC - 120 VDC
Choose a redundancy module that suits your application, optionally with:
Terminal or cable connection
LED display and signalling contact
Thermal overload protection
Main circuit: input 2-pole, output 1-pole or input and output 3-pole
Potentiometer for setting the voltage error limit at the inputs
All FEAS redundancy modules are characterised, among other things, by their simple mounting on DIN rails, integrated heat sinks, reverse polarity protection at the output, vibration resistance and suitability for tropical conditions.
Transformers
Choose a transformer to supply your appliances with 12VAC or 24VAC

Input voltage: 115VAC or 230VAC
Output voltage: 12VAC or 24VAC (short-circuit proof)
Features: long life and relatively high efficiency (>93%)
Thanks to their robust construction, encapsulated in a stable aluminium housing, the transformers are particularly suitable for use in harsh industrial environments or, for example, in shipbuilding.
Function modules
Designed for:
Setpoint distributor
Motor standstill indicator
Soft start
The high-quality function modules from FEAS are installed in a self-extinguishing polycarbonate housing and are mounted directly on the top-hat rail.